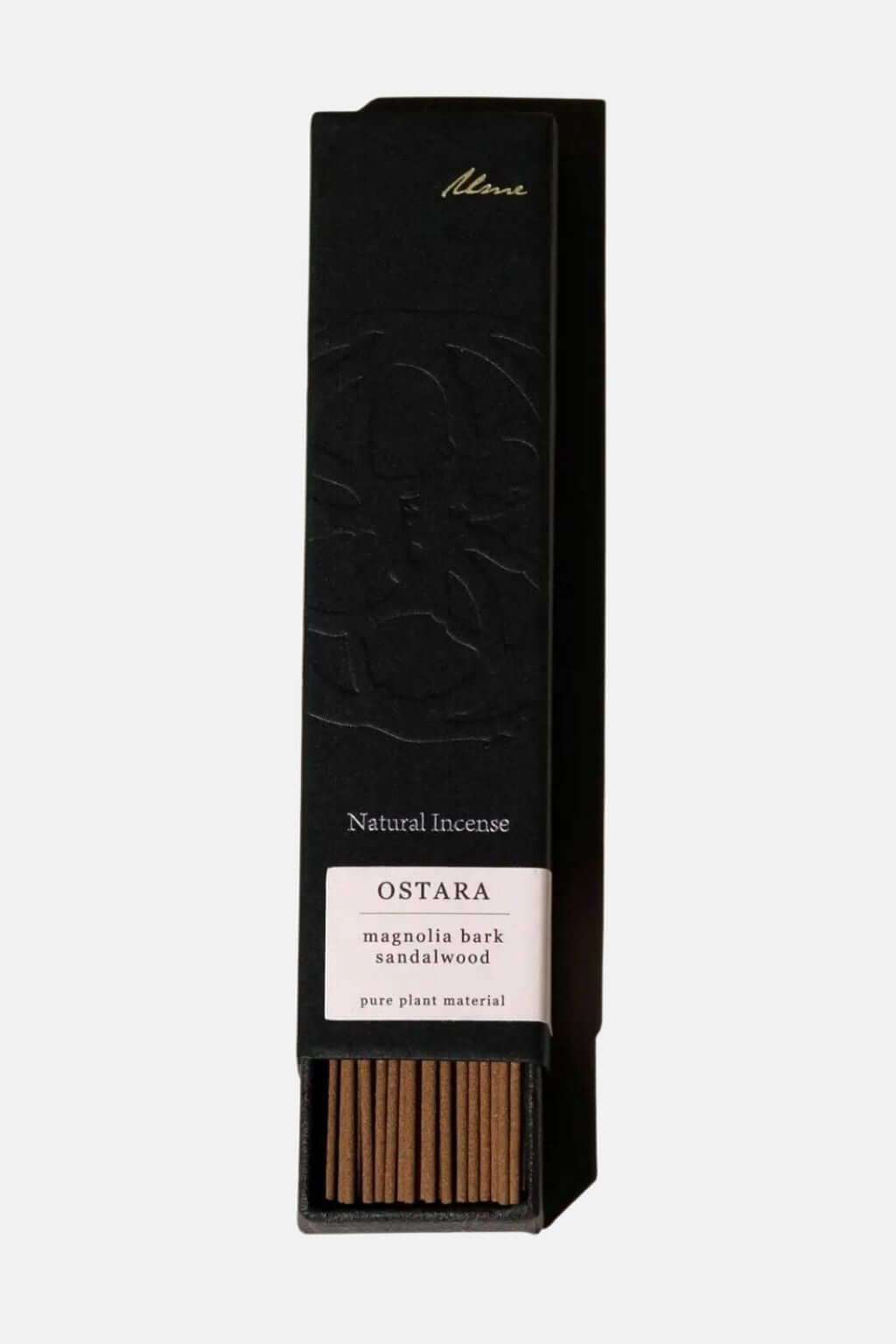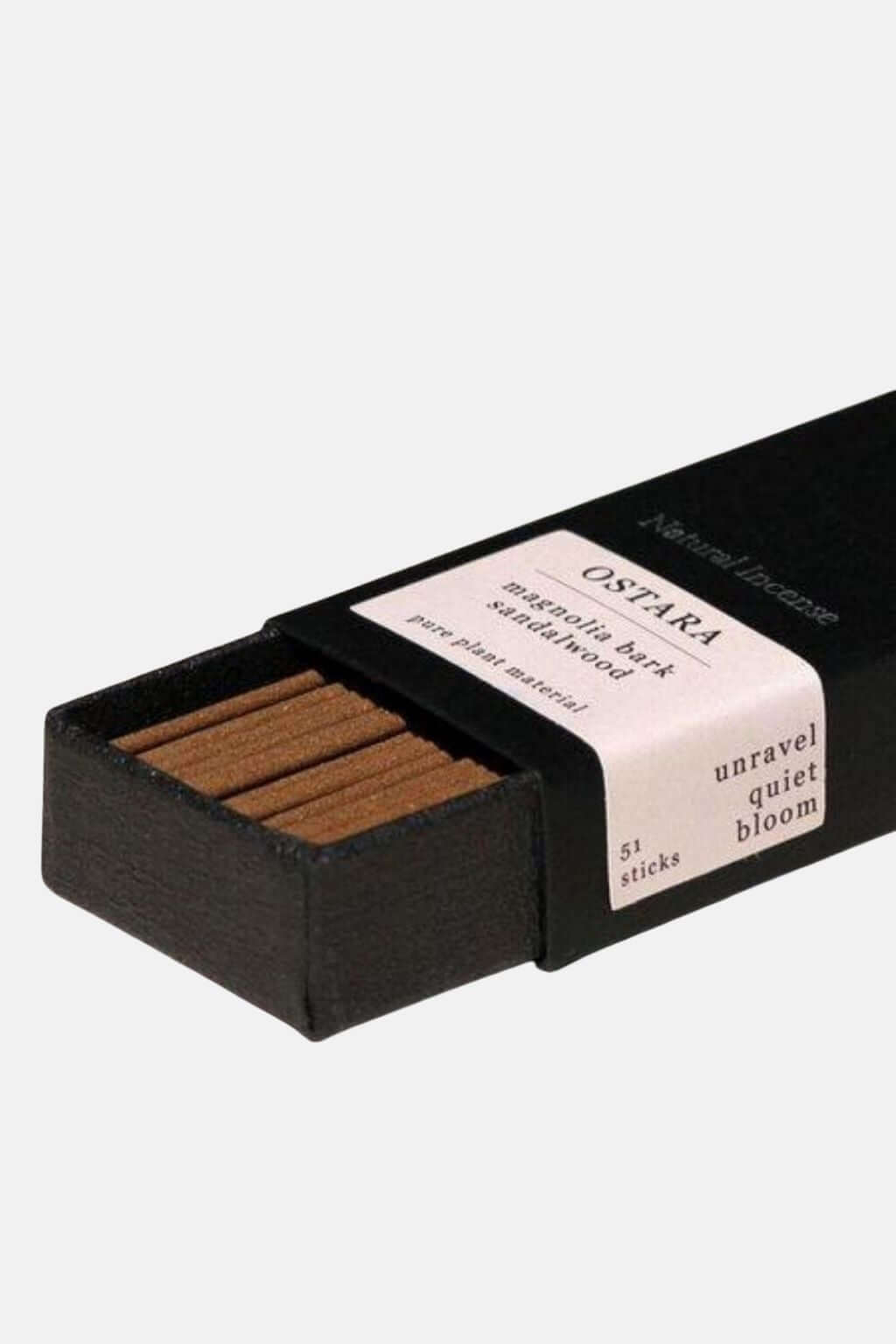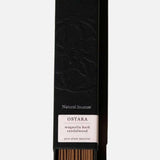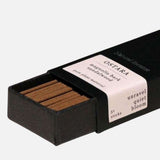 Ostara Natural Incense Sticks by Ume | Magnolia Bark + Sandalwood
Free Standard Shipping in Contiguous US for orders OVER $100
Item is in stock
Hurry! Low inventory
Item is out of stock
Item is unavailable
Description

PRODUCT USE + CARE
Delight in the exquisite alchemy of Magnolia Bark and Sandalwood captured within Ume's Ostara Natural Incense Sticks. Each stick exudes an aroma that unravels the senses, quiets the mind, and lets your spirit bloom, connecting you with the full vitality and heart-opening qualities inherent to these fragrant barks and woods.

Key Features:
Unravel the Senses: Engage in a sensory journey that elevates your surroundings.
Quiet the Mind: A natural elixir to promote tranquility and inner calm.
Heart-Opening Aroma: Infused with the life force energy to stimulate feelings of love and compassion.
Ethical and Natural:

 

Crafted using 100% aromatic plants that are vegan and responsibly sourced. Ume uses only precious barks, herbs, seeds and resins in their incense sticks.
Purity in Every Stick:

 

Absolutely free from synthetic ingredients, fillers, bamboo core, charcoal, and essential oils.
Elegant Packaging:

 

Presented in a sophisticated embossed paper slide box, perfect for gifting or personal use.
Ume's Japanese style incense sticks are inspired by the ancient art of incense making and blended with refined plant material to give an elegant cloud and profound scent. Dive into an aromatic experience with Ostara Incense Sticks, perfectly curated to cultivate an ambiance of serenity and connection.


Product Details:
50 sticks in every pack



Each stick burns for around 33 minutes
Box Measures: 

6.5" L x 1.6" W x 0.9" H

Handcrafted in the United Kingdom
---
Meet the Maker : Ume Incense
UME was created by Emma Leafe throughout her own healing experiences and after several influential journeys: exploring temples, exquisite tea houses and sacred power places across the globe.

Drawn toward the sacred arts in each place - and being captivated by the raw scents which perfumed these explorations, she began to experience first-hand how fragrance was key in unlocking doors in the mind. From this she discovered the lost art of incense making and began to explore the deeper rituals and crafts that surround it.
Ostara Natural Incense Sticks by Ume | Magnolia Bark + Sandalwood
SHIPPING + HANDLING

FAST SHIPPING

We strive to ship orders within 48 hours of order placement. Delivery times generally range from 3-7 business days for orders shipped within the contiguous United States.

FREE SHIPPING

We offer FREE STANDARD SHIPPING in the Contiguous US for orders OVER $100. All other shipping rates will be calculated automatically at checkout by our carriers.
OUR BRAND VALUES


MINDFUL LIVING

With a mindful intention, we are able to focus on purposeful action. This approach to living is both holistic + timeless, connecting us to the earth + to the wisdom of our ancestors. With this long term view of life, we are better able to fuse the wisdom of the past with a vision for the future, ensuring a balanced, fulfilling life for generations to come.


ECO-FRIENDLY PACKAGING

As an eco-minded business, we take our packaging decisions into serious consideration, weighing the overall impact our choices have upon both human + natural resources. Whenever possible, we choose packaging made from recycled, biodegradable, compostable, and plastic-free materials.


ETHICAL SOURCING

It is our mission to tread with love + kindness in our relationship with Mother Earth + all of her inhabitants. Cultiverre focuses on sustainability, diversity, fair labor standards + social good initiatives. When we move through this world fully aware of the intentionality + the consciousness of our choices, we begin to realize our choices are the truest reflection of our values.