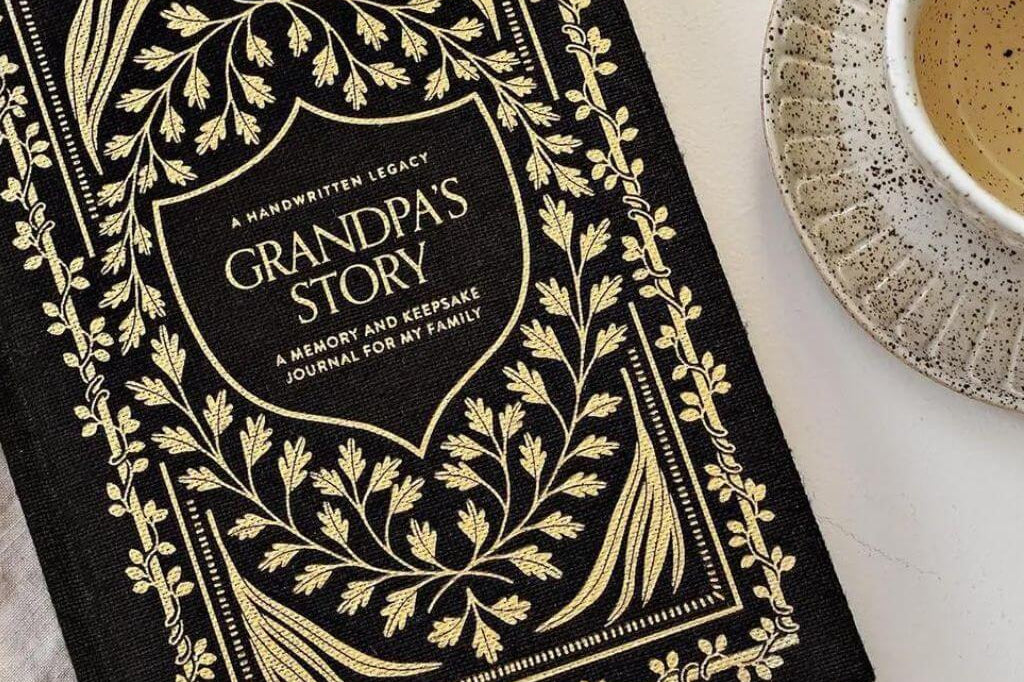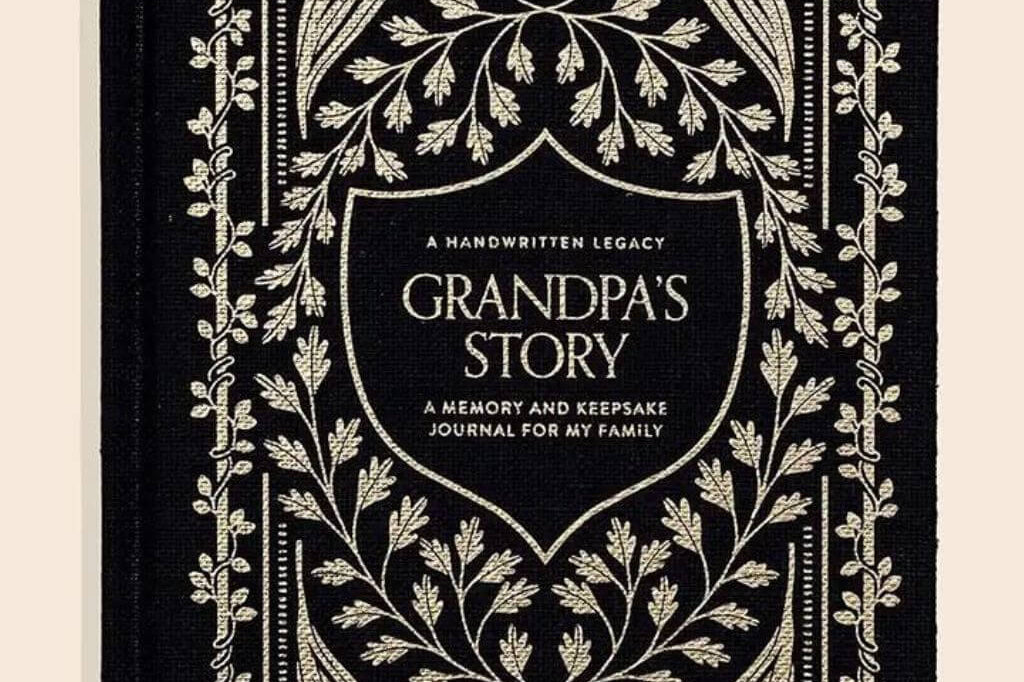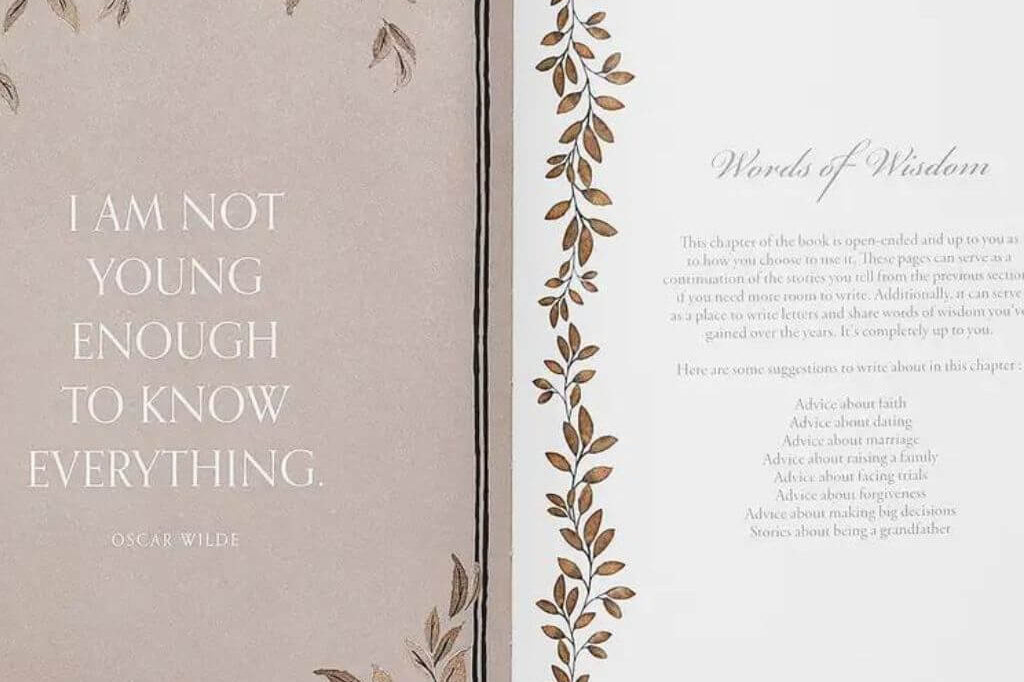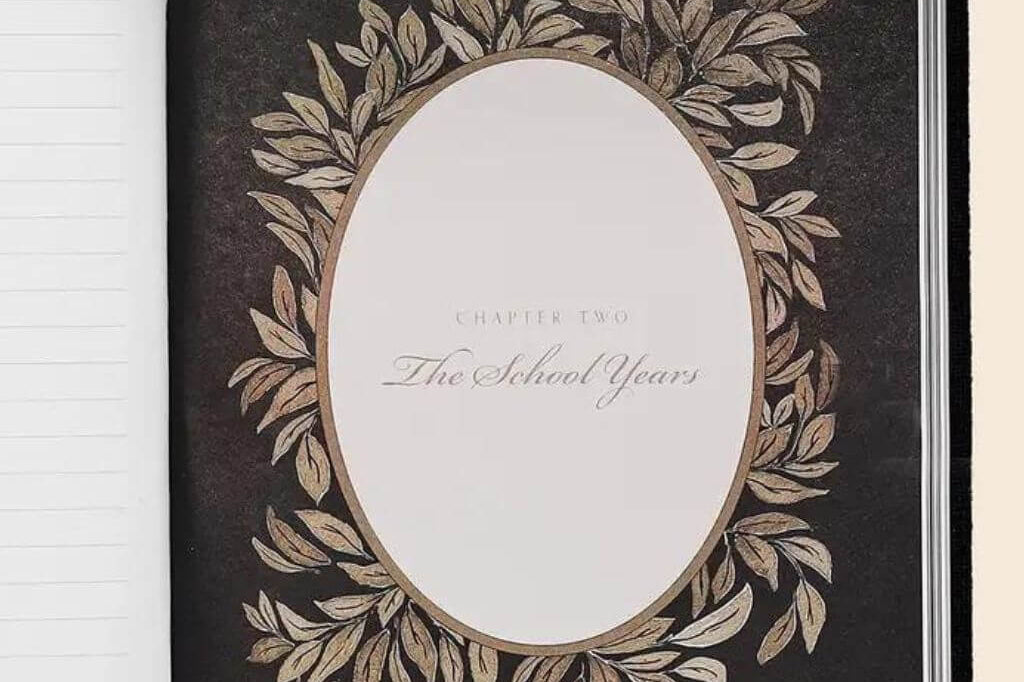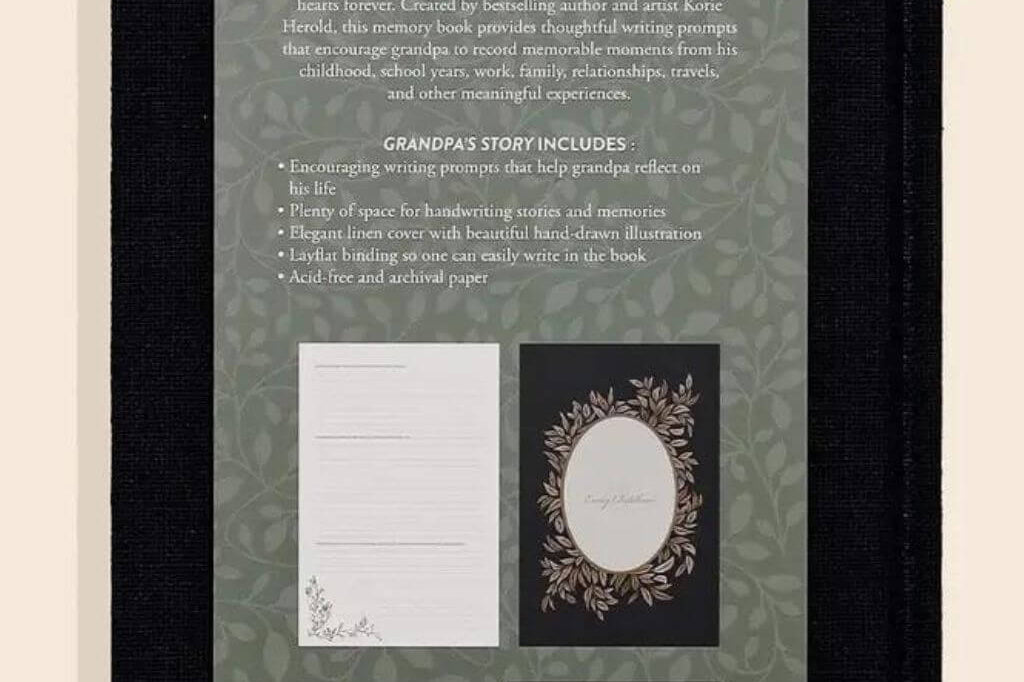 Grandpa's Story | a Memory Keepsake Journal
Free Standard Shipping in Contiguous US for orders OVER $100
Item is in stock
Hurry! Low inventory
Item is out of stock
Item is unavailable
Help your grandfather preserve his life story and pass it down to your family in this beautiful keepsake memory book.

Grandpa's Story is a guided journal thoughtfully designed to help grandfathers record their special memories and share them with their grandchildren and family. Created by bestselling author and artist Korie Herold, this keepsake book offers writing prompts and journaling pages to guide grandfathers along as they record their life's most precious moments. This book is the perfect gift for Father's Day, birthdays, or any time of year for your grandfather.
Purpose of the book:
A place to leave a handwritten legacy full of stories, personal values, and wisdom to pass on to your loved ones.


When to get this book:
Anytime. Get this for yourself, or give it as a gift. It would make a great gift to use to announce a pregnancy to a first time grandparent!


Thoughtful Prompts:

Imagine the questions you'd ask a loved one over breakfast at the table. That's how this book is intended to feel, and those are the types of questions included. This book has plenty of prompts to get your story-telling juices going, and there is also room in the back for open-ended journaling to tell stories that need to be documented. Sections and writing prompts include:


Early Childhood:

 

What was your house like growing up? What were your favorite toys or playtime activities?
School Years:

 

What did you think you wanted to be when you grew up? What were you like as a teenager?
Work and Travel:

 

What was your first job? What family vacations do you remember the most?
Love and Family:

 

What's your best relationship advice? How did you feel when you found out you were going to be a grandfather?
Character and Values:

 

What do you value most in life? What family values do you hope to pass down?
Hypotheticals and Curiosities:

 

What's something you wish you had done differently? What's the best advice you ever received?
Words of Wisdom:

 

Additional space to write letters to your family


Duration of Use:
However long it takes. It is recommended to take it slow and enjoy the process of story-telling and growth within parenthood.


Product Details:
Author: Korie Herold
Hardcover: 112 pages
Elegant linen cover with gold foil deboss
Acid-free and archival paper
Lay-flat design allows you to easily write in the book
Carefully developed designs and prompts for reflection and

 

remembrance
---
Meet the Maker : Paige Tate & Co.
Paige Tate & Co. is a lifestyle brand that empowers readers to live their lives fully and intentionally. While they strive to create books that are outwardly beautiful, their ultimate goal is to pair beauty with content that elevates lives. Each of their books embodies the ideal of function + beauty.
Grandpa's Story | a Memory Keepsake Journal
SHIPPING + HANDLING

FAST SHIPPING

We strive to ship orders within 48 hours of order placement. Delivery times generally range from 3-7 business days for orders shipped within the contiguous United States.

FREE SHIPPING

We offer FREE STANDARD SHIPPING in the Contiguous US for orders OVER $100. All other shipping rates will be calculated automatically at checkout by our carriers.
OUR BRAND VALUES


MINDFUL LIVING

With a mindful intention, we are able to focus on purposeful action. This approach to living is both holistic + timeless, connecting us to the earth + to the wisdom of our ancestors. With this long term view of life, we are better able to fuse the wisdom of the past with a vision for the future, ensuring a balanced, fulfilling life for generations to come.


ECO-FRIENDLY PACKAGING

As an eco-minded business, we take our packaging decisions into serious consideration, weighing the overall impact our choices have upon both human + natural resources. Whenever possible, we choose packaging made from recycled, biodegradable, compostable, and plastic-free materials.


ETHICAL SOURCING

It is our mission to tread with love + kindness in our relationship with Mother Earth + all of her inhabitants. Cultiverre focuses on sustainability, diversity, fair labor standards + social good initiatives. When we move through this world fully aware of the intentionality + the consciousness of our choices, we begin to realize our choices are the truest reflection of our values.