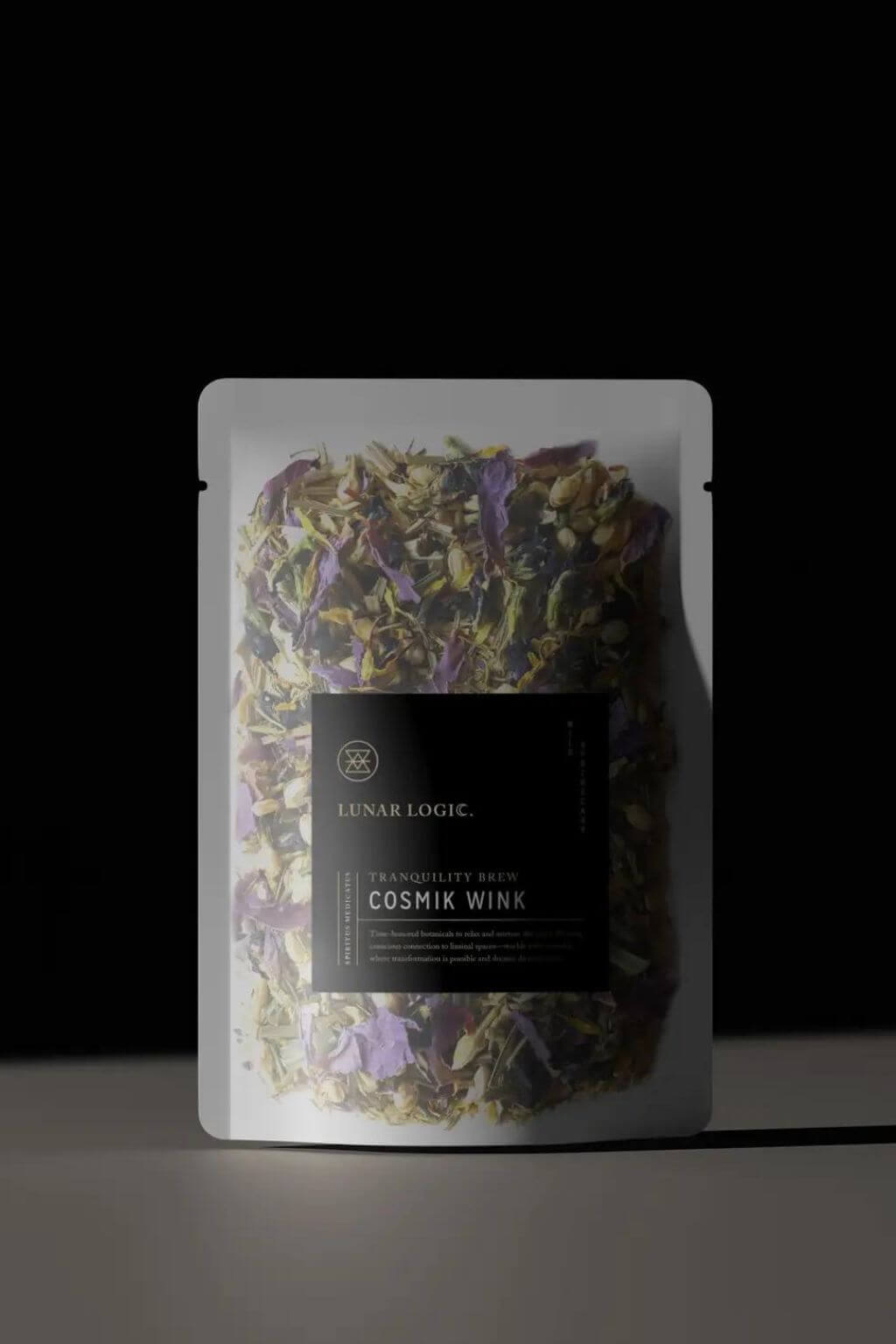 COSMIK WINK | Tranquility Tea
Free Standard Shipping in Contiguous US for orders OVER $100
Item is in stock
Hurry! Low inventory
Item is out of stock
Item is unavailable
Description

PRODUCT USE + CARE

INGREDIENTS
Embark on a journey beyond the ordinary with our Cosmik Wink | Tranquility Tea. This tea is a tribute to time-honored botanicals that cocoon the spirit in relaxation, guiding you to the liminal spaces where dreams awaken and transformation thrives.


Cosmik Wink Tea features a captivating blend of botanicals, a symphony of jasmine blossoms, lemongrass, passionflower, milky oat tops, butterfly pea flowers and blue lotus petals. These ingredients unite to guide you on an experiential journey through realms within realms, allowing you to forge a conscious connection with your inner self.


As you steep this brew, allow its aromatic embrace to wash over you, unraveling the layers of your spirit and inviting the serene tranquility that resides within. Cosmik Wink Tranquility Tea beckons you to explore the infinite possibilities of your own being, where dreams take shape and transformation is ignited.


Product Details:
Handcrafted Apothecary Tea Blend

Loose leaf tea offers better flavor and better quality
Handcrafted in Small Batches
20+ Servings
Made in the USA
* These statements have not been evaluated by the FDA. This product does not intend to treat or prevent any any disease. If pregnant or nursing, it is advised that you seek advice from your medical practitioner prior to using. 
Jasmine blossoms, Lemongrass, Passionflower, Milky Oat tops, Butterfly Pea flowers, Blue Lotus petals
---
Meet the Maker : Lunar Logic Wild Apothecary
Lunar Logic Wild Apothecary is a wild and magical journey into connection, consciousness, and profound healing through wild and grown plants, elevated thinking, and the practice of rituals. Their handcrafted, magical formulas tell the story of the unique lands from which they came. Grown with care, harvested each season with intention, and blended with love, they guide this journey and we are honored to share them with you.
COSMIK WINK | Tranquility Tea
SHIPPING + HANDLING

FAST SHIPPING

We strive to ship orders within 48 hours of order placement. Delivery times generally range from 3-7 business days for orders shipped within the contiguous United States.

FREE SHIPPING

We offer FREE STANDARD SHIPPING in the Contiguous US for orders OVER $100. All other shipping rates will be calculated automatically at checkout by our carriers.
OUR BRAND VALUES


MINDFUL LIVING

With a mindful intention, we are able to focus on purposeful action. This approach to living is both holistic + timeless, connecting us to the earth + to the wisdom of our ancestors. With this long term view of life, we are better able to fuse the wisdom of the past with a vision for the future, ensuring a balanced, fulfilling life for generations to come.


ECO-FRIENDLY PACKAGING

As an eco-minded business, we take our packaging decisions into serious consideration, weighing the overall impact our choices have upon both human + natural resources. Whenever possible, we choose packaging made from recycled, biodegradable, compostable, and plastic-free materials.


ETHICAL SOURCING

It is our mission to tread with love + kindness in our relationship with Mother Earth + all of her inhabitants. Cultiverre focuses on sustainability, diversity, fair labor standards + social good initiatives. When we move through this world fully aware of the intentionality + the consciousness of our choices, we begin to realize our choices are the truest reflection of our values.