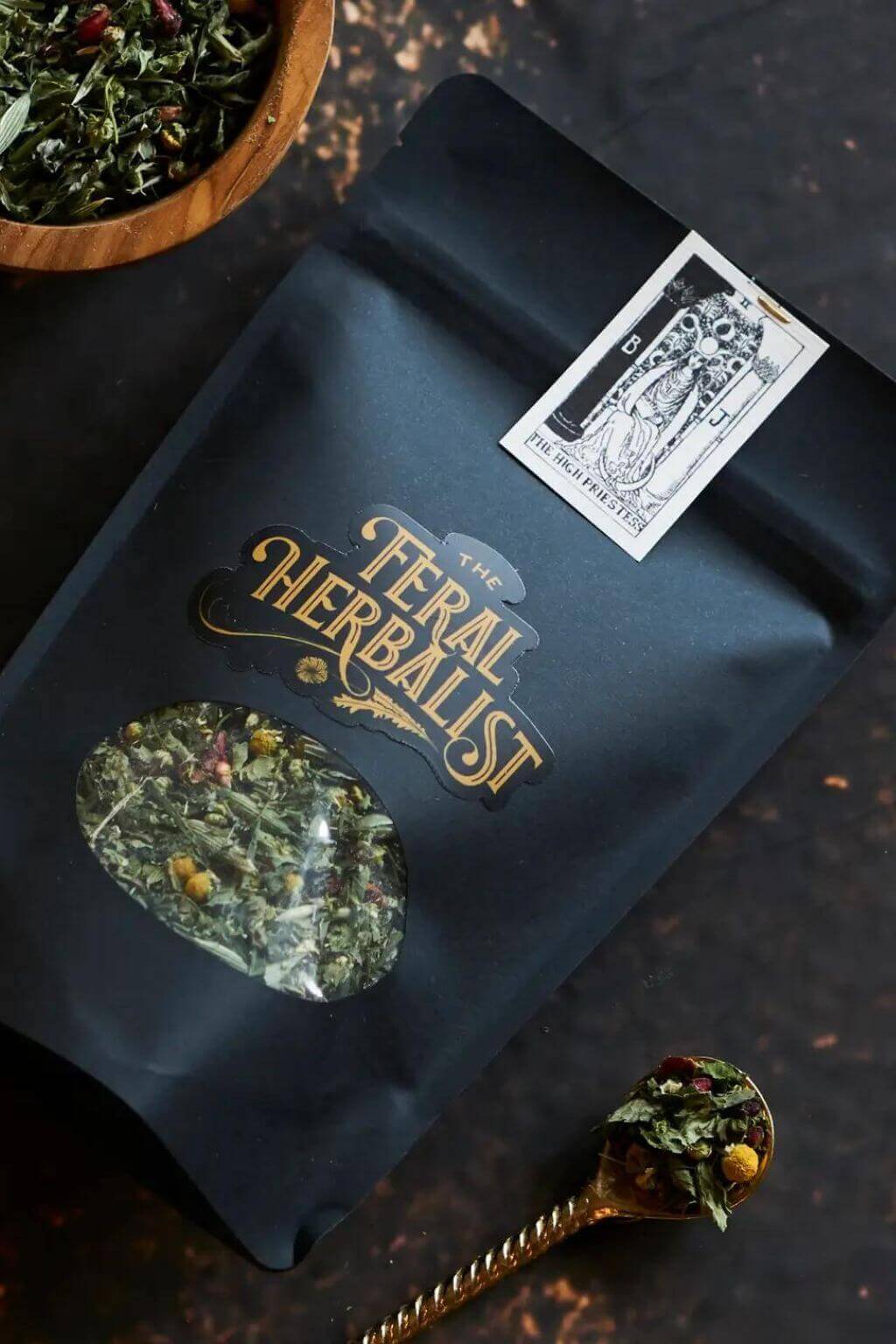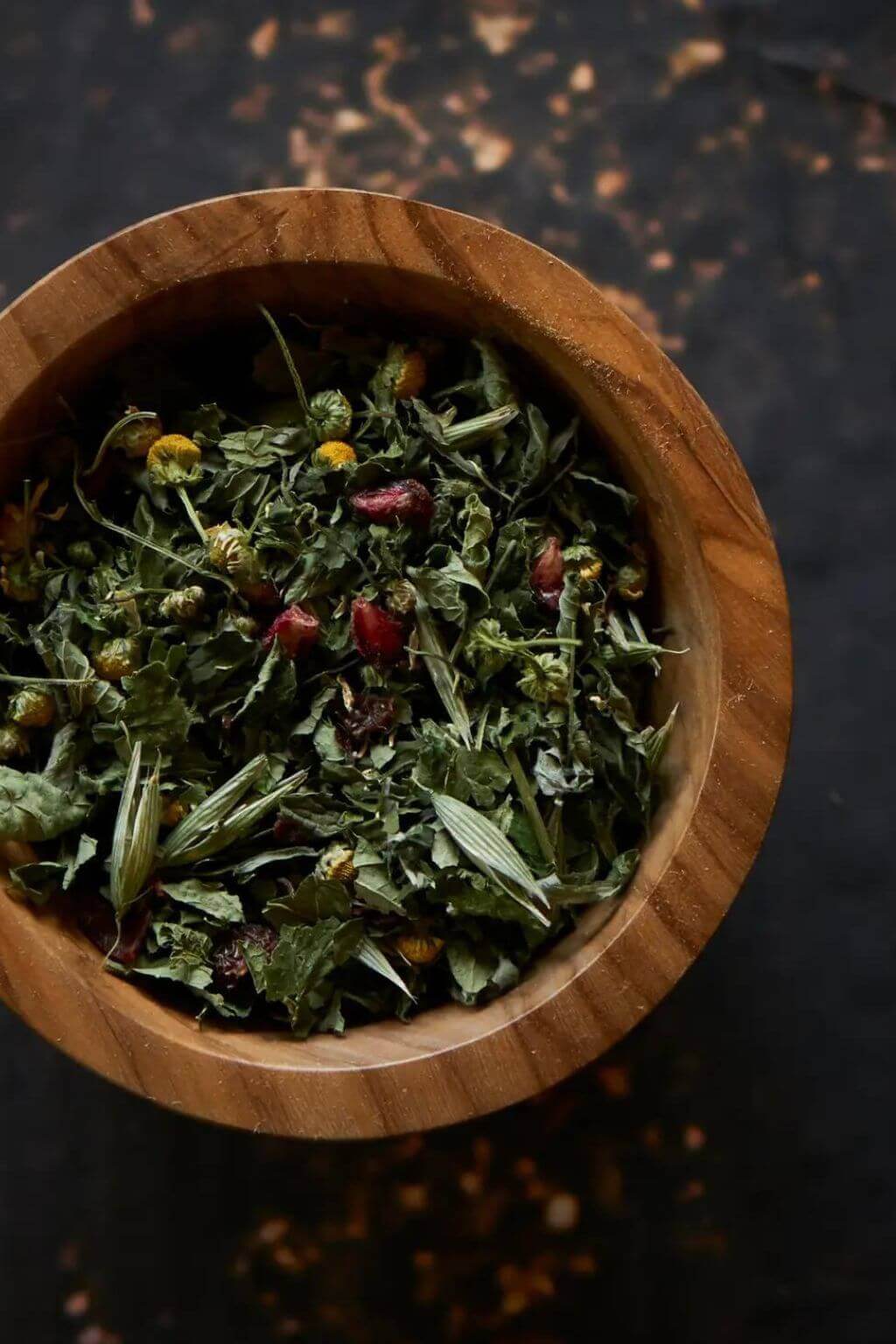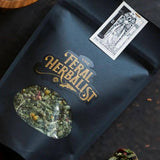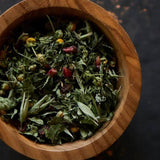 The High Priestess - a Tarot Inspired Herbal Tea Blend
Free Standard Shipping in Contiguous US for orders OVER $100
Item is in stock
Hurry! Low inventory
Item is out of stock
Item is unavailable
Description

PRODUCT USE + CARE

INGREDIENTS
A caffeine free herbal tea to help support and nurture the emotional landscape. Known as the guardian of the subconscious mind, The High Priestess is the illuminator of hidden mysteries and of the sacred knowledge that lies within us. Ruled by the Moon, the High Priestess reminds us of the power that comes with sitting in stillness and listening to our deep inner knowledge - the information that is sometimes buried in our subconscious within the depths of our shadow realm.
The herbs and fruit chosen for this blend help support and nurture our emotional landscape. As you sip on this flavorful fruit and minty tea, may you think about The High Priestess and honor her by delving into your emotions + your subconscious mind. Look towards what is perhaps uncomfortable and allow the flavors of these nourishing herbs to help beacon the knowledge you are here to tend, to illuminate your true inner wisdom.


Product Details:
2 ounce resealable bag

Caffeine Free
Crafted + Hand Blended in the US

* This tea is not intended to treat, diagnose, cure or prevent any illness, disease or condition, and has not been evaluated by the FDA.
Mugwort, Chamomile, Milky Oats, Lemon Balm, Spearmint, Rosehips, Pomegranate and Rosemary
---
Meet the Maker : The Feral Herbalist
The Feral Herbalist is passionate about the world of herbalism and the ritual of drinking and sharing herbal tea infusions. They offer a collection of tea blends which embody the powerful archetypes of the Tarot. Tarot is such an incredible tool that mirrors our human experiences… even the hard ones. The Feral Herbalist's creations are intended to help us slow down, even for just a moment and sip with mindfulness + intention to discover the magic that lies within a cup of tea.

The High Priestess - a Tarot Inspired Herbal Tea Blend
SHIPPING + HANDLING

FAST SHIPPING

We strive to ship orders within 48 hours of order placement. Delivery times generally range from 3-7 business days for orders shipped within the contiguous United States.

FREE SHIPPING

We offer FREE STANDARD SHIPPING in the Contiguous US for orders OVER $100. All other shipping rates will be calculated automatically at checkout by our carriers.
OUR BRAND VALUES


MINDFUL LIVING

With a mindful intention, we are able to focus on purposeful action. This approach to living is both holistic + timeless, connecting us to the earth + to the wisdom of our ancestors. With this long term view of life, we are better able to fuse the wisdom of the past with a vision for the future, ensuring a balanced, fulfilling life for generations to come.


ECO-FRIENDLY PACKAGING

As an eco-minded business, we take our packaging decisions into serious consideration, weighing the overall impact our choices have upon both human + natural resources. Whenever possible, we choose packaging made from recycled, biodegradable, compostable, and plastic-free materials.


ETHICAL SOURCING

It is our mission to tread with love + kindness in our relationship with Mother Earth + all of her inhabitants. Cultiverre focuses on sustainability, diversity, fair labor standards + social good initiatives. When we move through this world fully aware of the intentionality + the consciousness of our choices, we begin to realize our choices are the truest reflection of our values.