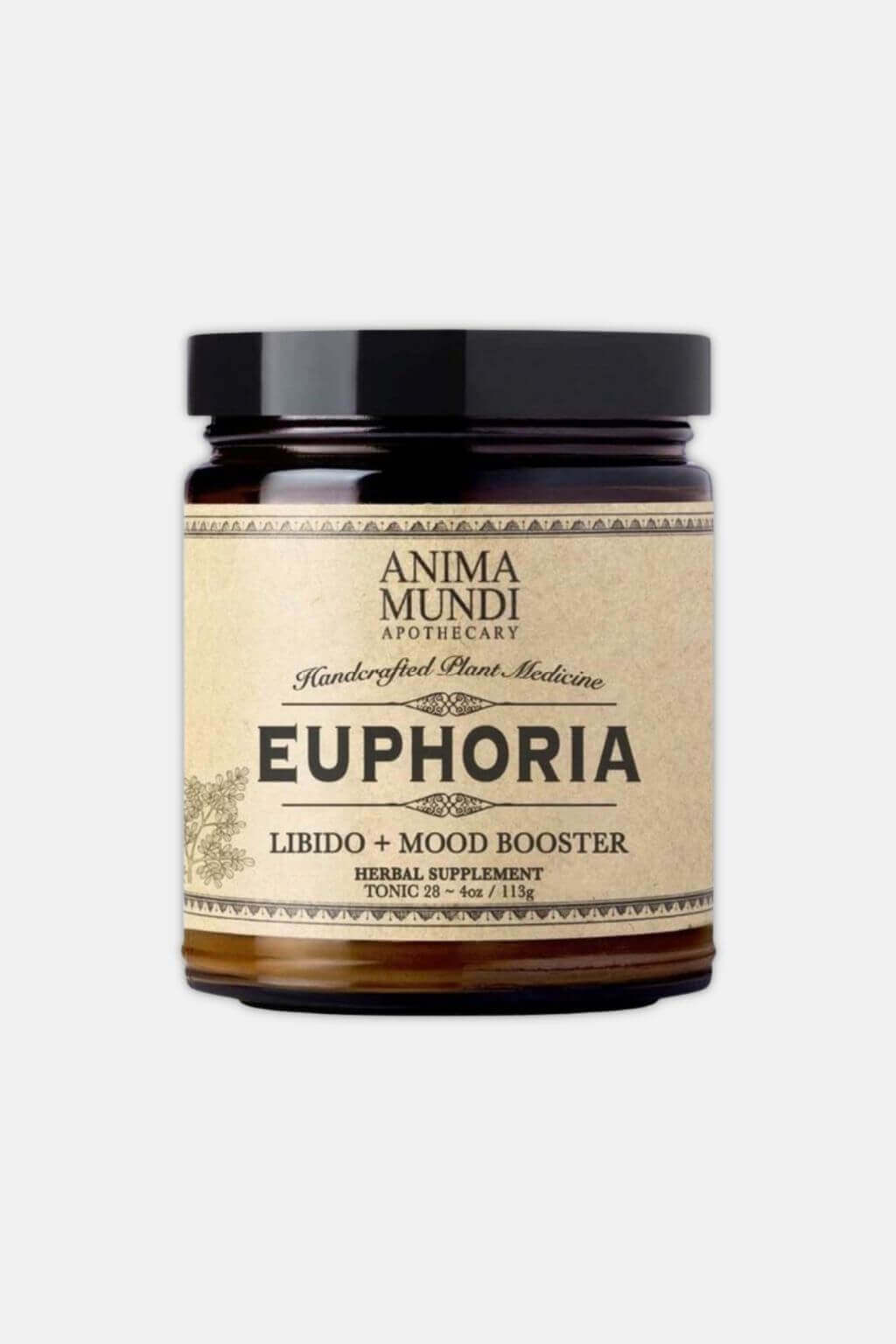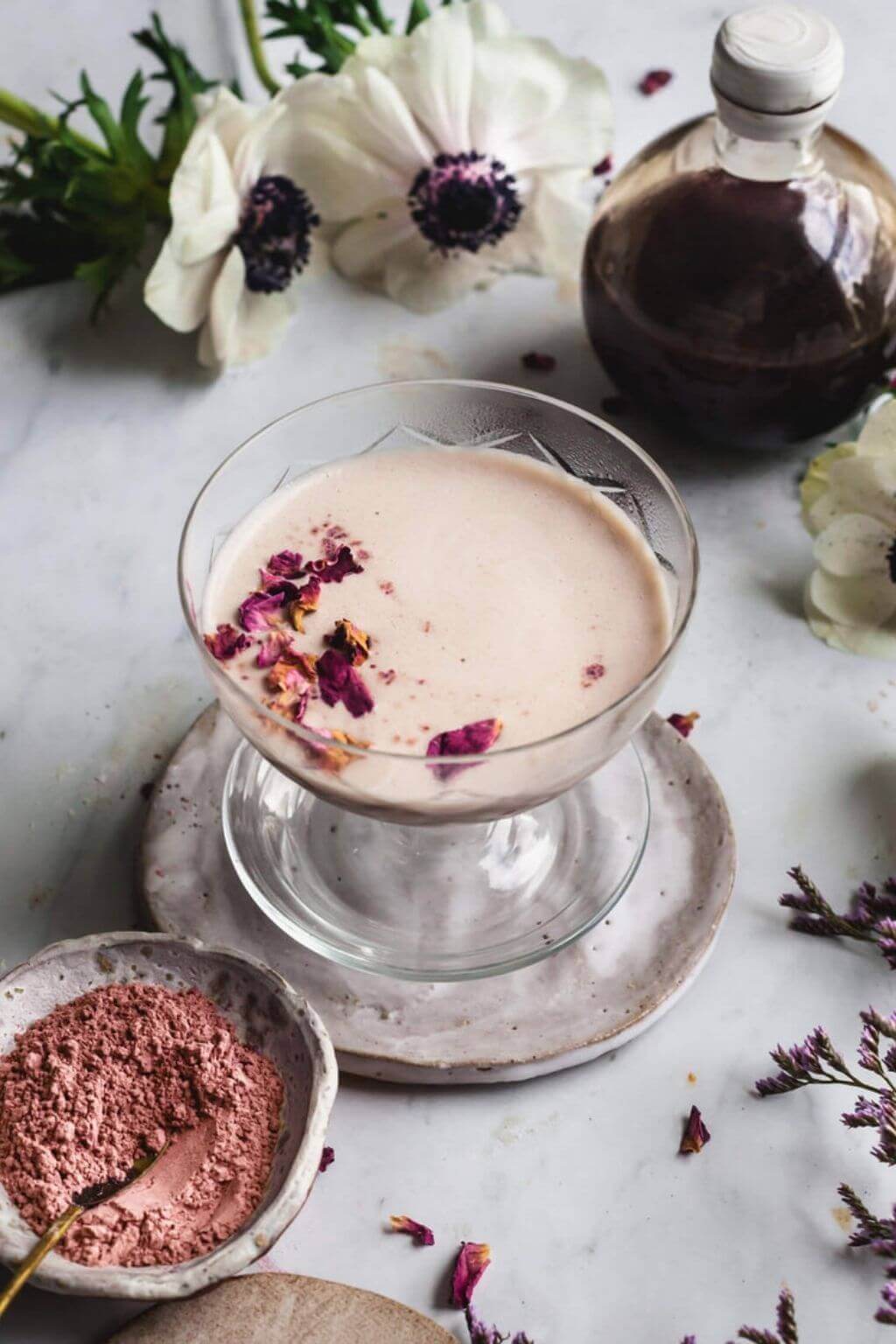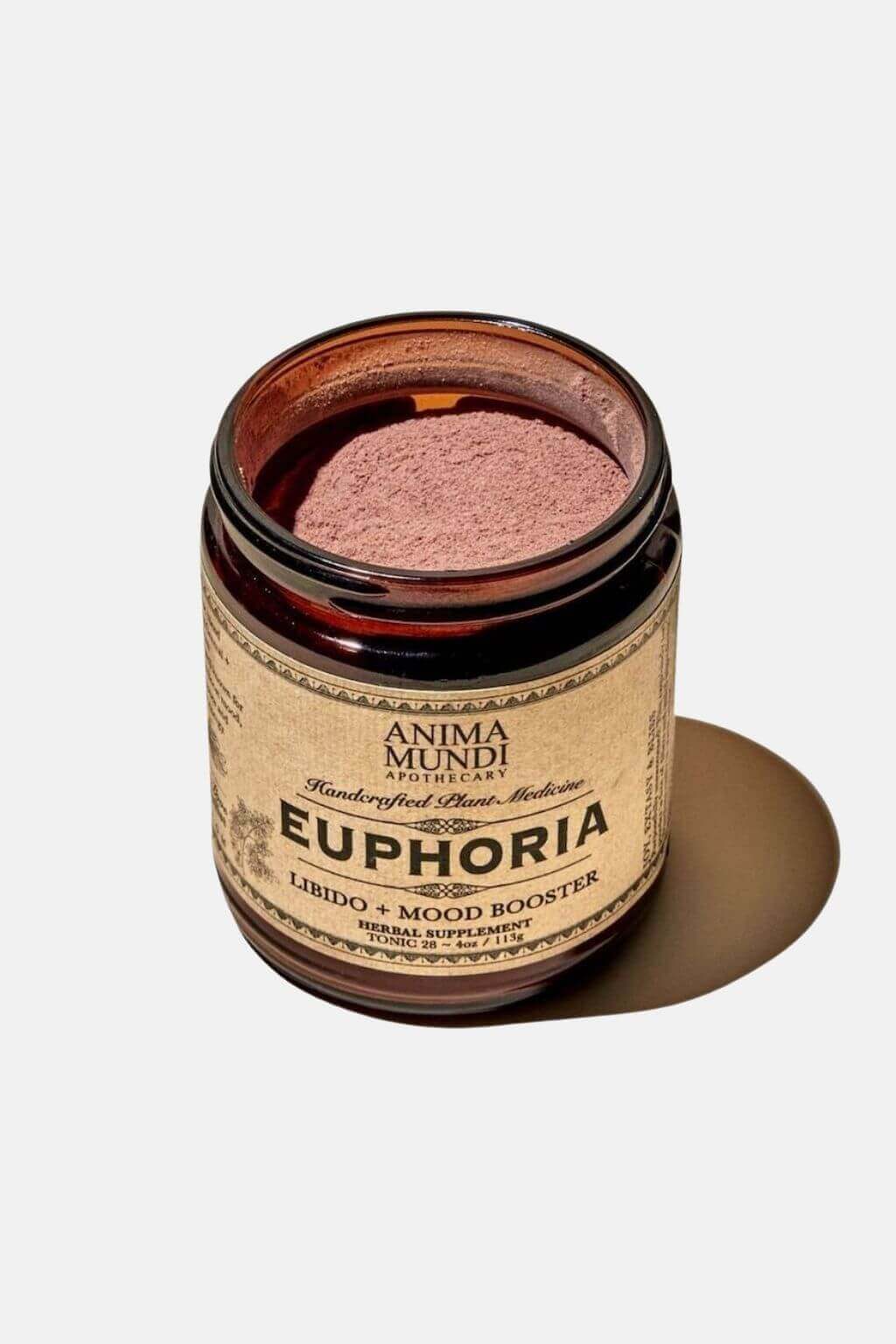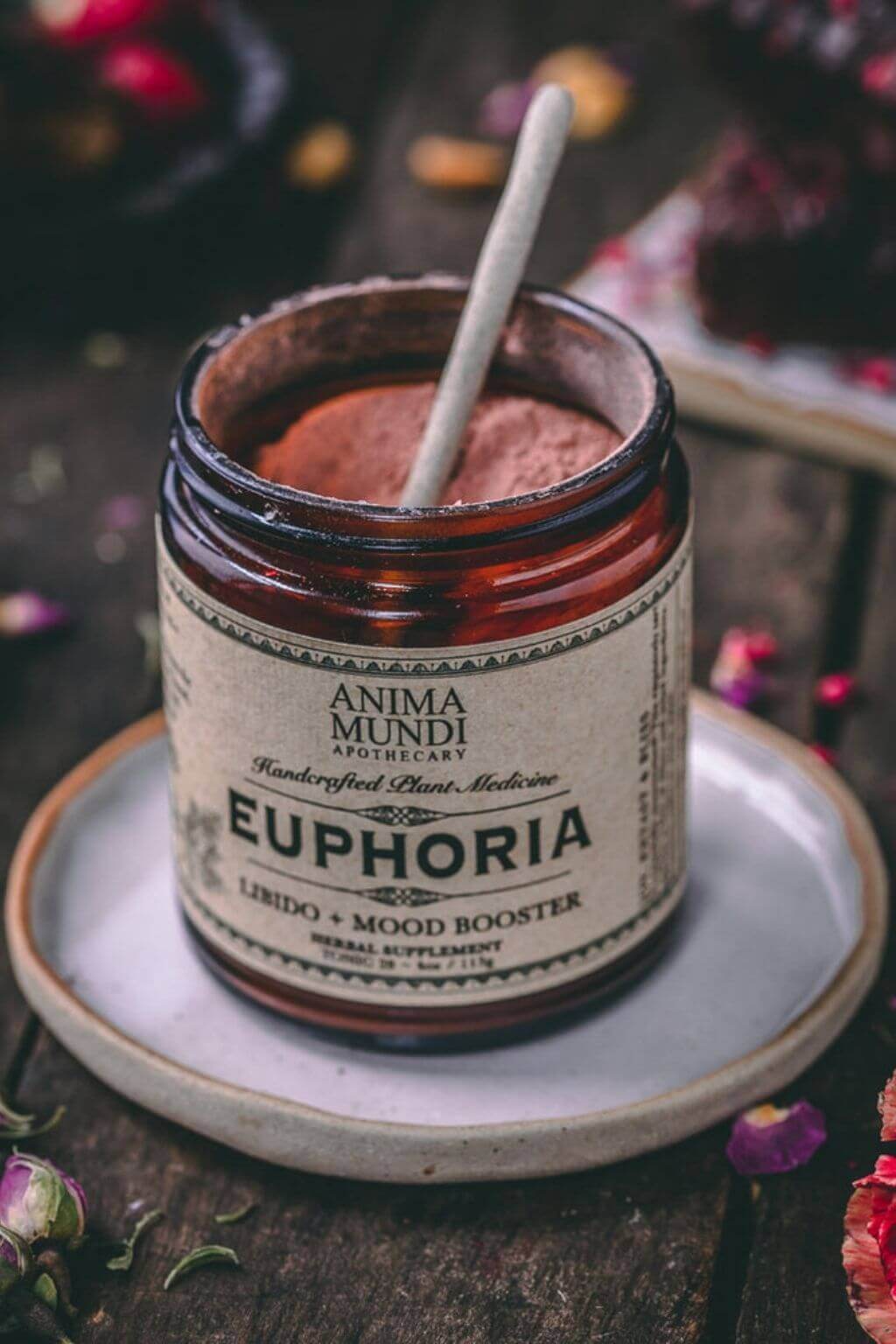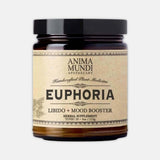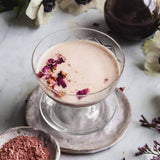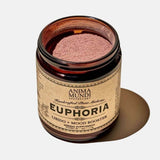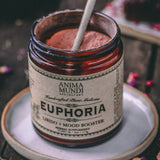 Euphoria Powder : Aphrodisiac + Libido Booster
Free Standard Shipping in Contiguous US for orders OVER $100
Item is in stock
Hurry! Low inventory
Item is out of stock
Item is unavailable
Description

PRODUCT USE + CARE

INGREDIENTS
Aphrodisiac | Spirit Arousal | Mood Booster


A new and delightful love potion is here!! Anima Mundi's renowned libido boosting Euphoria Elixir is now available as a potent powder. We couldn't be more excited as this is an EXQUISITE and EFFECTIVE powder, that is easy to use.


Other than being a mood uplifter, the plants within this formula are known to arouse the spirit, make us feel good and elevated, while containing plants known to nurture our reproductive organs, help curb excess stress, anxiety and soothe overworked nerves.


Indigenous peoples around the world have been spicing up their lives with the help of wise and precious plants for as long as humans have explored sexuality. In fact, some of the most potent aphrodisiacs, mojo boosters, and mood enhancers come from the jungle's lush terrain.


This is why Anima Mundi has chosen some of the best herbs native to their founders' territory, Central America, along with Amazonian powerhouses that are a delight to the spirit.


Key Benefits:
May act as an aphrodisiac
May boost mood

May boost creative energy

Can increase libido and sexual desire

May help increase fertility

May be nutritive to the reproductive system

Can uplift the spirit with joy


Helps increase connection between the self + others by opening the heart

Product Details:
Amount per package:

 

4 oz (113g) Fine Powder
Amount of servings: 51 servings per container (using 1 tsp per serving)

* These statements have not been evaluated by the FDA. This product does not intend to treat or prevent any any disease. If pregnant or nursing, it is advised that you seek advice from your medical practitioner prior to using. 
   

    

 
Pomegranate Powder, Goji Berry Powder*, Rose Powder*, Schisandra Powder, Damiana Powder, Catuaba Powder, Guarana Powder, Vanilla Powder*, Muira Puama, Monk Fruit*. (*organic)
---
Meet the Maker : Anima Mundi Apothecary
Anima Mundi's mission is to bridge ancient remedies to the modern world. Their apothecary is composed of organic, wildcrafted, and ethically grown botanicals. They aim to continuously source pristine, unadultured and wholesome medicines for mind body and soul wellness. Anima Mundi is devoted to making vibrant and medicinally potent remedies that honor the principles of harmony and ancient formulation that have years of anecdotal and traditional evidence. Anima Mundi's roots are within the heart of Costa Rica and Brooklyn. Their founder Adriana moved to Brooklyn with a mission to bridge remedies from native people within Central and South America, to modern day needs and imbalances. They believe in sustainable growth, from the inception of the plants they use, to their business practice. Their project educates and supports true fair trade practices, beyond organic farming, education, small farmers to create remedies that benefit people from all walks of life.


Euphoria Powder : Aphrodisiac + Libido Booster
SHIPPING + HANDLING

FAST SHIPPING

We strive to ship orders within 48 hours of order placement. Delivery times generally range from 3-7 business days for orders shipped within the contiguous United States.

FREE SHIPPING

We offer FREE STANDARD SHIPPING in the Contiguous US for orders OVER $100. All other shipping rates will be calculated automatically at checkout by our carriers.
OUR BRAND VALUES


MINDFUL LIVING

With a mindful intention, we are able to focus on purposeful action. This approach to living is both holistic + timeless, connecting us to the earth + to the wisdom of our ancestors. With this long term view of life, we are better able to fuse the wisdom of the past with a vision for the future, ensuring a balanced, fulfilling life for generations to come.


ECO-FRIENDLY PACKAGING

As an eco-minded business, we take our packaging decisions into serious consideration, weighing the overall impact our choices have upon both human + natural resources. Whenever possible, we choose packaging made from recycled, biodegradable, compostable, and plastic-free materials.


ETHICAL SOURCING

It is our mission to tread with love + kindness in our relationship with Mother Earth + all of her inhabitants. Cultiverre focuses on sustainability, diversity, fair labor standards + social good initiatives. When we move through this world fully aware of the intentionality + the consciousness of our choices, we begin to realize our choices are the truest reflection of our values.